Find the China main hub city ports - Shenzhen plate
Date:2019-08-12 Hits:3775
---
Image from Baidu
·Location situation and its economic construction significance
Shenzhen city was established in 1979 and became a special economic zone in 1980. It's the first special economic zone established by China.
Shenzhen is located in South China, belongs to Guangdong province.In the east,it's adjacent to Daya Bay and Dapeng Bay; In the west ,it's near the Pearl River Estuary and the lingdingyang bay ; In the South, it's connected to Hong Kong through the Shenzhen River.
Shenzhen is the link and bridge connecting Hong Kong and the Chinese mainland. It's also one of the four central cities in the Guangdong-Hong Kong-Macao Greater Bay Area. Meanwhile, It's the international integrated transportation hub , the international technology industry innovation center, and one of the three national financial centers in China, and fully build a global ocean center city.
Shenzhen also has a full range of water, land and air ports.It's a port city and it's one of with the largest number of ports and the largest number of entry and exit personnel and the largest traffic volume in China.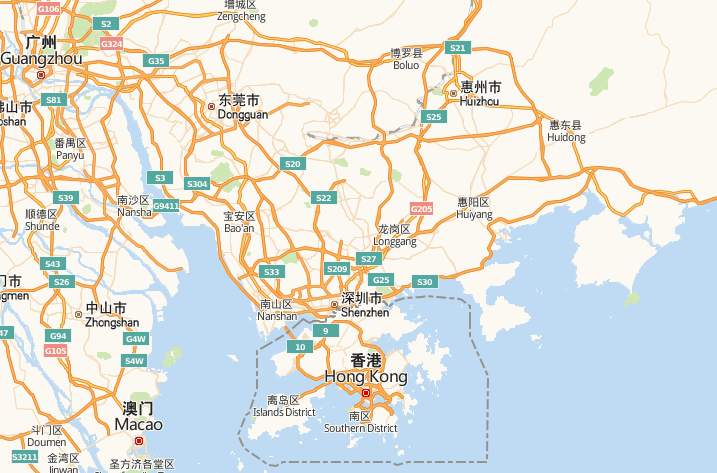 ·The economy and industry of Shenzhen
Shenzhen is one of the economic centers of China,the total economic output ranks fourth in mainland China for a long time and is one of the most economically beneficial cities in mainland China. In the list of 2012 "The Most Economically Competitive Cities in the World" , Shenzhen ranked second.
Primary industry: crops and aquatic products
In 2018, the sown area of crops in Shenzhen was 189,300 mu, and the total annual output of aquatic products was 78,500 tons.
Secondary industry: industrial products
In 2018, the industrial added was 925.40 billion yuan, an increase of 9.0% over the previous year. Among them, the export delivery value increased by 13.2%, and the export delivery value accounted for 43.2% of the industrial sales value above designated size. Industrial product sales rate of 96.7%
Tertiary Industry: Retailing of Finance and Consumer Goods.
According to the 2010 Global Financial Centres Index by the city of London showed that Shenzhen is the ninth-ranked financial center in the world. It is planned that by end of 2010, the added value of the financial industry will account for more than 15% of GDP.
Shenzhen is the third largest insurance city and the first insurance reform pilot city in China.
Shenzhen has 38 foreign-funded financial institutions, including 31 business institutions and 7 representative offices.
In 2018, the total retail sales of consumer goods in Shenzhen was 616.887 billion yuan. According to the type of consumption, the retail sales of goods was 542.438 billion, and the income from catering was 74.449 billion yuan.
·Transportation and Container Hub Port
The central port of southern China in the future, the container transit port of Asia---Shenzhen Port
Shenzhen Port has the following main ports: Shekou International Container Termianal, Fuyong Ferry,Yantian International Container Termianal, Mawan Wharf, inland terminal depot, Dongjiaotou Wharf, Xiatongsha Yuyong Ferry Terminal and Dachan Bay Wharf.Among them, Yantian and Shekou as the two basic terminals for Shenzhen Port.
The port of Shenzhen container throughput ranks fourth in the world container ports for nine consecutive years.
Among them, Yantian and Shekou as the two basic terminals for Shenzhen Port.
As of 2018, Shenzhen Port has opened 239 international container liner routes, covering the world's 12 shipping areas, reaching more than 300 ports in more than 100 countries and regions.
Shenzhen Port has 18 inland river terminals and 6 within Luzuo Port signed a combined port agreement to open 60 barge routes (including Hong Kong) and 14 sea-rail intermodal train lines covering 52 PRD sub-terminals, and listed 4 inland ports .
In 2018, Shenzhen Port match cargo throughput was 251 million tons, with an average daily output of 688,400 tons, of which foreign trade cargo throughput was 187 million tons.Domestic trade cargo throughput was 639.787 million tons,container throughput was 2,537,900 TEUs, with an average daily price of 7.05 million TEUs; of which foreign trade container throughput was 24,216,100 TEUs, and domestic trade container throughput was 1,537,800 TEUs.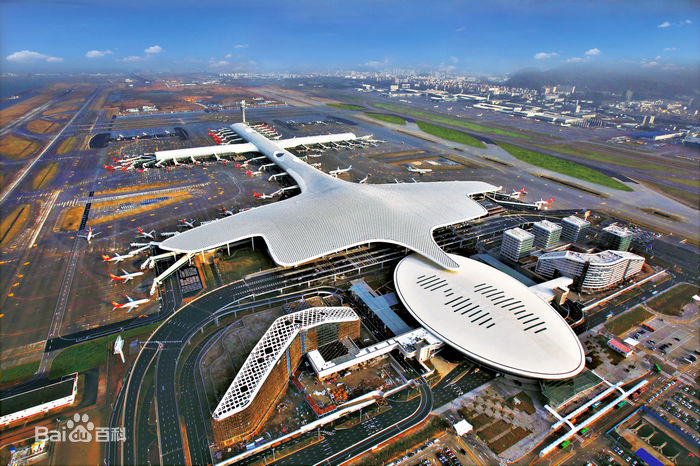 One of the China four main air cargo centers and express delivery centers---Shenzhen Bao'an International Airport
Shenzhen Bao'an International Airport(IATA:SZX,ICAO:ZGSZ) is located in Bao'an District, Shenzhen, China, 32 kilometers away from Shenzhen urban district. It is a 4F level civil transport airport. It is one of the world's top 100 airports, an international hub airport, one of China 12 main trunk airports, and One of the China four main air cargo centers and express delivery centers.
In 2015, Shenzhen Baoan International Airport transported a total of 39.712 million passengers, an increase of 9.5% over the same period of 2014. The total number of aircraft movements was 305,400, a year-on-year increase of 6.7%. Cargo handling capacity was 1.0131 million tons, ranking 4th in the China national airport.
2005-2015 Baoan Airport data statistics

In 2018, Shenzhen Baoan International Airport welcomed 49.349 million passengers, with a cargo and mail throughput of 1.219 million tons and take off and landing flight 356,000 flights.
About the Air transportation of Baoan Airport
Bao'an Airport is mainly engaged in passenger and cargo transportation. On the basis of attaching importance to the development of domestic and international passenger transportation business.It focuses on expanding domestic and international cargo transportation, strengthens the strategic cooperation relationship between airports and airlines, freight forwarders and customers. Improves airport freight hardware and software Facilities, establish a freight network platform that effectively covers the Pearl River Delta region, and gradually develop Shenzhen Airport into a South China Super Freight Portal Airport.
As of November 30, 2018, a total of 34 all-cargo navigation cities (including 19 domestic, 14 international, and 1 regional) were opened.
Supporting facilities
It now has a modern logistics company, a express mail supervision center, an international cargo terminal (Lufthansa joint venture), a domestic cargo station and a bonded logistics center, providing basic operation services, providing public operation sites and agent storage areas.
Service items
1. Domestic and international air transport services
Baoan Airport can provide global import and export transportation services and China inland air transportation, It'spositioned by the Civil Aviation Administration of China as the South China Air Cargo and Express Distribution Center.
2.Transit service diversification
The overseas cargo is transported by air to Shenzhen Airport and then customs transferring though air trsnport operated to the mainland of China;
The overseas cargo is transported by air to Shenzhen Airport and then customs transit though truck operated to the mainland of China; Hong Kong cargo is transported by truck to Shenzhen Airport then customs transit though truck operated to the mainland of China;
Diversified services achieve seamless integration, and it's also can lead to achieve easy customs clearance, cost reduction, and guarantee good timeliness.
3.International and domestic express mail service
Baoan Airport International Express Customs Supervision Center provides a standardized and smooth customs clearance environment for customs and inspection and quarantine departments and various express mail enterprises; and provides an efficient service platform for aviation logistics and express mail operations of Shenzhen Airport.
Currently, It provides high-quality services for 20 express mail companies with international express mail declaration business.
4. Bonded logistics services
Baoan Airport Bonded Logistics Center covers an area of 115,000 square meters and can provide customers with the following functions:
1> Bonded warehousing;
2> International logistics and distribution;
3>Processing and value-added services ;
4> Import trade and entrepot trade;
5>Deep processing carry-over and entry into the center/ tax refund function.
Shenzhen Airport Bonded Logistics Center enjoys the characteristic supervision policy:
1> Procedures can be processed at the same time in the"One-day tour" enters and exits the center ; "the original car enters and the original car exit", no need to unload the goods;
2> Transfer in and out of centralized customs declaration;
3> Within the airport All customs supervision stations can make barrier-free scheduling;
4>Simple business is put on record in advance, and no single case by case approval is required.
Baoan Airport Bonded Logistics Center has the following advantages:
1>365 days X24 hours cargo clearance operation;
2>Only 5 minutes to reach the main traffic network, 30 minutes to reach the road port;
3> Can use cross-border fast customs clearance mode, to achieve the goods rapid circulation with Hong Kong;
4>Combined with different modes of transportation, air, land and sea, can build a diversified service system.
5. Customs clearance services
Baoan Airport is one of the most complete airports in China with the most convenient customs clearance environment:
1>24 hours customs clearance, 365 days customs clearance operation.
2> One-stop service, all document procedures can be completed by the logistics building.
3> To achieve sea, land and air transport, can carry out various types of customs clearance business.
4> Rapid cross-border transportation between Shenzhen and Hong Kong, Huanggang Port can exemption check.
5>Goods entering the logistics park can handle export tax rebate and other services.
6. Value-added services
Door-to-door delivery service; network DDU\DDP service; dangerous goods identification service; agent declaration, inspection service; cargo agency insurance service; domestic and international warehousing services;
7. Hong Kong-Shenzhen/Shenzhen-Hong Kong Express Transit Transport Service
Improve the import and export customs clearance time between Hongkong and the mainland cities though Shenzhen, rapid cross-border transportation between Shenzhen and Hong Kong; the exemption check of Huanggang port can so that speed up cargo circulation.
Enabling international air cargo carriers to make full use of the good facilities and grounds of Shenzhen Airport ,achieve provides seamless communication with Hong Kong well-developed international aviation network to provide high quality service to cargo owners.
·Visit Marka logistics Shenzhen head office
Marka logistics Co.,Ltd(Shenzhen head office)
Address:Room 2501,Caiwuwei Jinlong Building.No.139 Hongbao Road,Luohu District,Shenzhen,China
Contact director:+86 755 22383756
·From Marka office to Shenzhen main ports distance calculation
From Marka office to Shenzhen port Yantian yard.
It takes about half an hour to drive,distance about is 20.8 Km.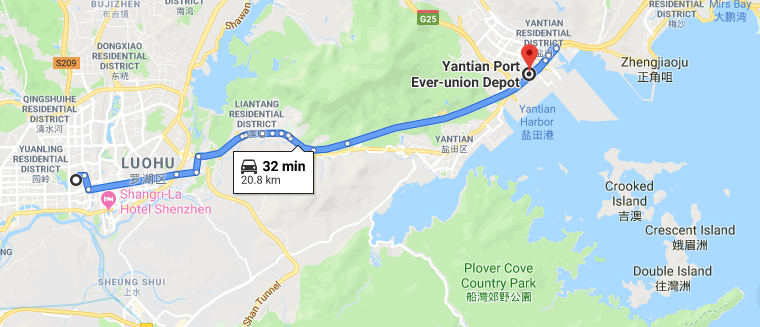 From Marka office to Shenzhen port Shekou yard.
It takes about 40 minutes to drive,distance about is 26.7 Km.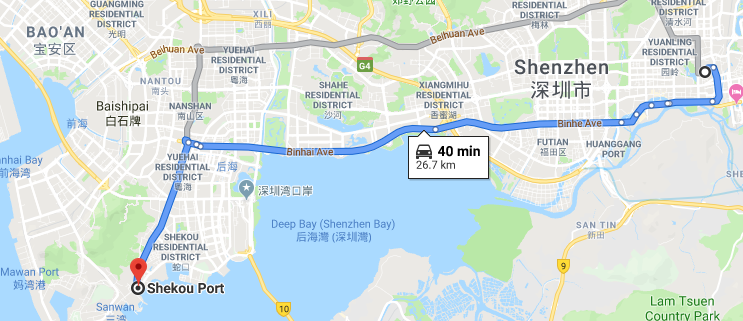 From Marka office to Shenzhen Bao'an International Airport.
It takes about 42 minutes to drive,distance about is 38.5 Km.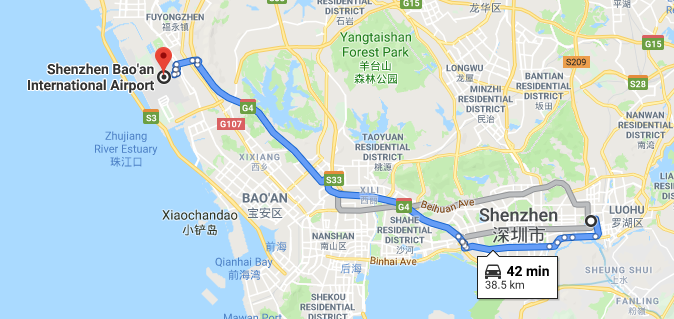 ·Marka logistics office Coverage:
Shenzhen/Foshan/Shantou/Jiangmen/Nanning/Shanghai/Ningbo/Qingdao/Tianjin/Bangkok(Thailand)
Shenzhen—Head Office, leading the whole company
Bangkok office has been set up at Sep.2018
We're your best choice for joining global logistics service's partner !
On August 12th